The 4th GEN Mazda 3 hatch is a great looking car, especially once you start modifying it. Something sorely lacking though is the rear hatch, giving the rear of the car an "egg" shape from certain angles. We're proud to help fix this issue with the CorkSport Performance Spoiler for 2019+ Mazda 3 Hatchback! We took an OEM+ approach to the spoiler, and created a taller and much more aggressive version of the Mazda aero kit spoiler to give a much sportier look to the BP Mazda 3. Offered in three different material choices so you can personalize the look of your ride! Read on for full details!
Update: FORGED CARBON IS SOLD OUT!
---
The CorkSport Advantage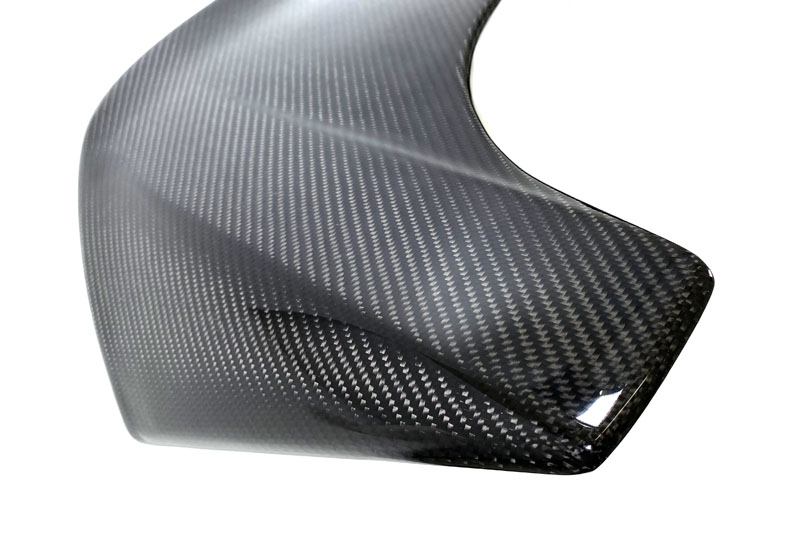 Design Focused:
The CorkSport Performance Spoiler for 4th GEN Mazda 3 adds some much needed flare to your car. We took design cues from the OEM aero kit spoiler and feedback from the community to create an "OEM+" spoiler that is taller, longer, and incorporates a duckbill style upturned rear edge. It is a sportier look that helps the Mazda 3 inch closer to looking like a true hot hatch without ruining the great lines of the car. When the CS spoiler is combined with lowering springs, nice wheels, and the Mazda aero kit, your 4th GEN will really turn some heads!
---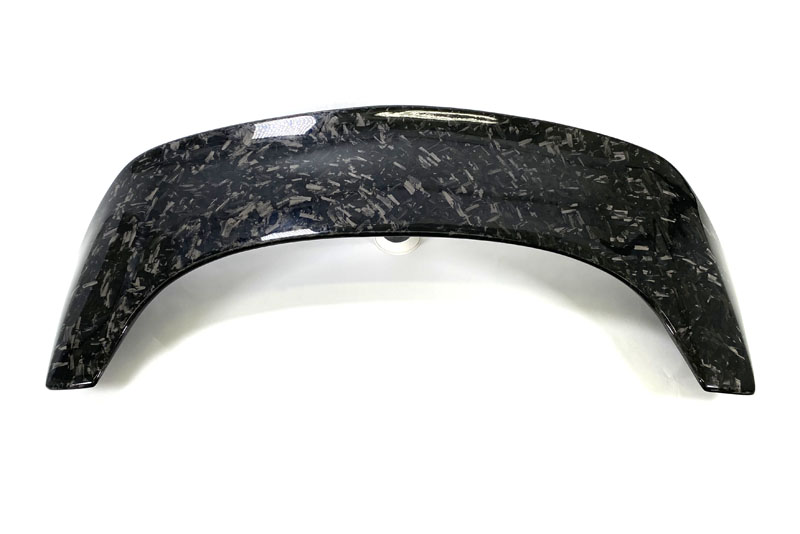 OEM Fitment:
Each CorkSport spoiler installs just like the OEM Mazda aero kit. We started with a 3D scan of the OEM aero kit spoiler to get accurate edges and mounting surfaces. This ensures the CS spoiler lines up great with the hatchback trim panel and uses the same attachment points and adhesive style tape as OEM. This means if you already have an OEM aero kit spoiler, no drilling and no extra holes! If you do not have an aero kit spoiler, you unfortunately will have to do some trimming & drilling, however, by using the same mounting locations as OEM, the needed holes are pre-marked!
---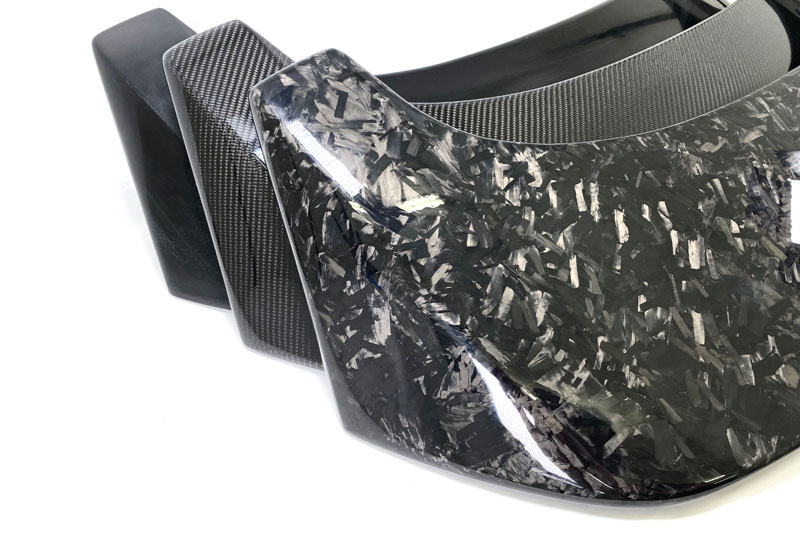 Choose your Look:
You have your choice of material for your CorkSport Spoiler! While each option is made from a base of fiberglass, the top layer can be finished in woven carbon fiber, forged carbon fiber, or basic black fiberglass. Both carbon fiber options are topped with a UV resistant epoxy coat that is polished to a mirror-like finish. For a cheaper DIY option, we offer the fiberglass spoiler in a partially finished state in a satin black color. We recommend some finish sanding and a top coat of paint or wrap.
---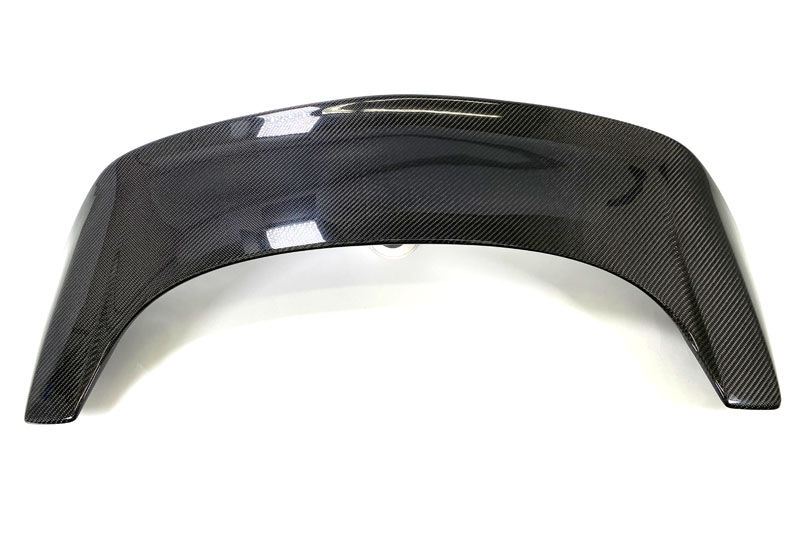 Hardware & Accessories:
Each CS performance spoiler comes with all hardware and accessories needed to install. This includes brand new mounting bolts, washers, 3M VHB mounting tape, and even rubber washers for weatherproofing. We also include full color step-by-step installation instructions so it's a headache-free install!

Drilling/Cutting is required for installation if vehicle is not equipped with OEM aero kit spoiler. OEM hole locations are used if vehicle is equipped with OEM aero kit spoiler.
The FRP only spoiler is meant as a DIY spoiler that will require finish sanding and prep for paint or vinyl wrapping.
Note: We take great pride in our work and products. Your CorkSport Carbon Fiber Spoiler is crafted by hand. It is completely unique to you. Slight imperfections are normal with handmade products, such as tiny bubbles or wavy weaves. They are not a reflection on the quality of the product or functionality. Due to the nature of the product, we only offer a 30-day warranty.
---
How To Install a 2019-Up MZ3 Rear Wing


It will take you 1-2 hours to install the 4th Gen Mazda 3 Hatch Wing.

1 hour Install Time

3/5 Difficulty

No CEL

Tracking will be sent once it leaves our warehouse.

For Canadian shipments, if the item is at a US address, the item needs to be brought into our Winnipeg warranty prior to shipping out to the destination.
Tracking information will be received once it leaves Winnipeg.
Please note, average turn around time for this is roughly 2 weeks, if the product is in stock.
Absolutely NO refunds/exchanges on special order items. If return of a non special order item is requested, customer must pay shipping and it must be requested within 14 days of purchase. 

Any orders not picked up by the customer within 15 days after notification of arrival becomes property of OSS Motorsport Ltd. no credit or refund will be given.

Customers that remove product(s) from OSS Motorsport will have been deemed to agree with all of the above terms and conditions. All items sold are for Off Road Use Only.
UNWANTED ITEMS
Unwanted items are subject to a 20% restocking fee, in addition to the return shipping to our warehouse(if applicable). Used items cannot be returned.
Electronics
All Electronics are final sale!
Please have your mail box or junk mail box checked for status updates.
Shipments, returns & refund
During the payment process, we provide delivery options with different delivery companies with which we have no contractual relationship. We offer commission free this added service so the client can receive its order without having to round trip to our warehouse. If there is any problem with the delivery, it is the consignee responsibility to contact the delivery company he/she dealt with directly. The carrier provide a limited insurance of 100$. If you need more, please contact us prior to purchase as we will get you the quotation for extra insurance from the carrier you will select.
NO return accepted. Exchange upon approval and proof of factory default.
Partial or full refund requests are subject to 5% administrative fees. Refund is immediately issued upon cancellation and a confirmation email is sent. However, depending on the payment method used, it may take one (1) to ten (10) days for the refund to appear in client account.
Special orders are non-refundable.
United States orders may be subject to Custom fees and tax as we ship from Canada. 
Disclaimers:
Some products may be used for off-road only. Customer is responsible to check with his/her local/state laws and ordinances.
We are not responsible if the client ordered the wrong item, which does not work on its vehicle.
All parts required professional installation, there is no return or exchange if the client does not know how to install it him/herself.
OSS Motorsport is not responsible for defective or damage caused by unprofessional installation or misuse of the product.
Privacy Policy
We are committed to the privacy of the client's information. OSS Motorsport does not, and will not, distribute, disclose or sell any of the client's personal information to third parties, other than as required by law or as necessary to process a payment. During the process of providing payment information, client may be asked to provide his/her name, address, e-mail, phone number, and where payment is concerned, credit card number, billing address, security code and expiration date.  When users access our site, we may automatically collects information, including IP addresses and information regarding the client use of the site through cookies or automatic registration and maintenance of the client contacts to us and preferences.
Questions about the Terms of Service should be sent to us at info@oss-motorsport.com.