Alpha Performance Porsche Macan Intercooler System
DESCRIPTION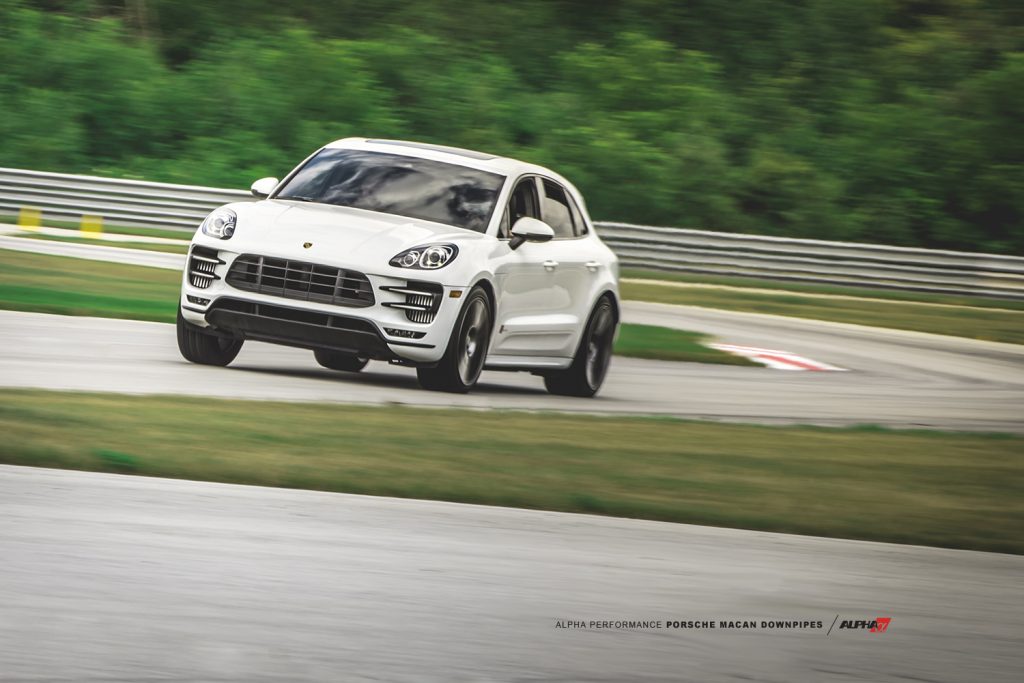 Introducing the Alpha Performance Porsche Macan Intercooler System
AMS developed the Alpha Performance Porsche Macan Intercooler System to provide you the best cooling upgrade for your Porsche Macan. Our goal was to provide the ultimate system in terms of quality, simplicity, fitment, aesthetic design, and of course, performance.
The Highest Quality Garrett© Intercoolers For Your Porsche Macan
The Alpha Macan Intercooler System features the highest quality Bar and Plate Garrett Intercooler cores which are a full 
43% thicker than OEM!
 Alpha's massive cores give you the most power supporting intercooler upgrade on the market. Each of the two super thick 85.5mm Garrett© cores provide an optimum fin density of 20 fins per inch for unmatched cooling.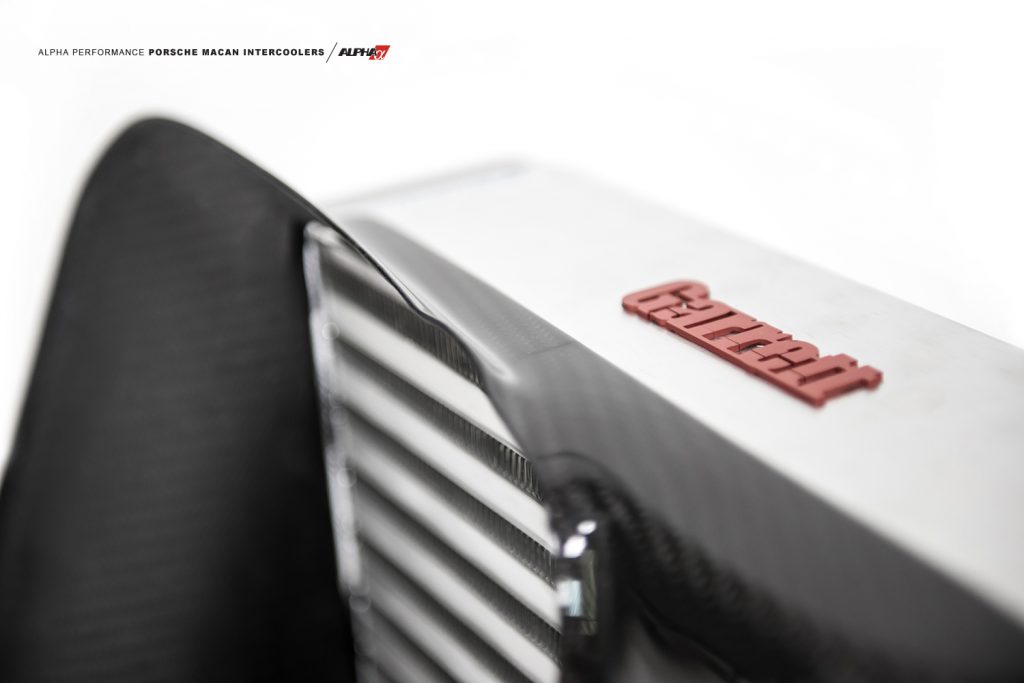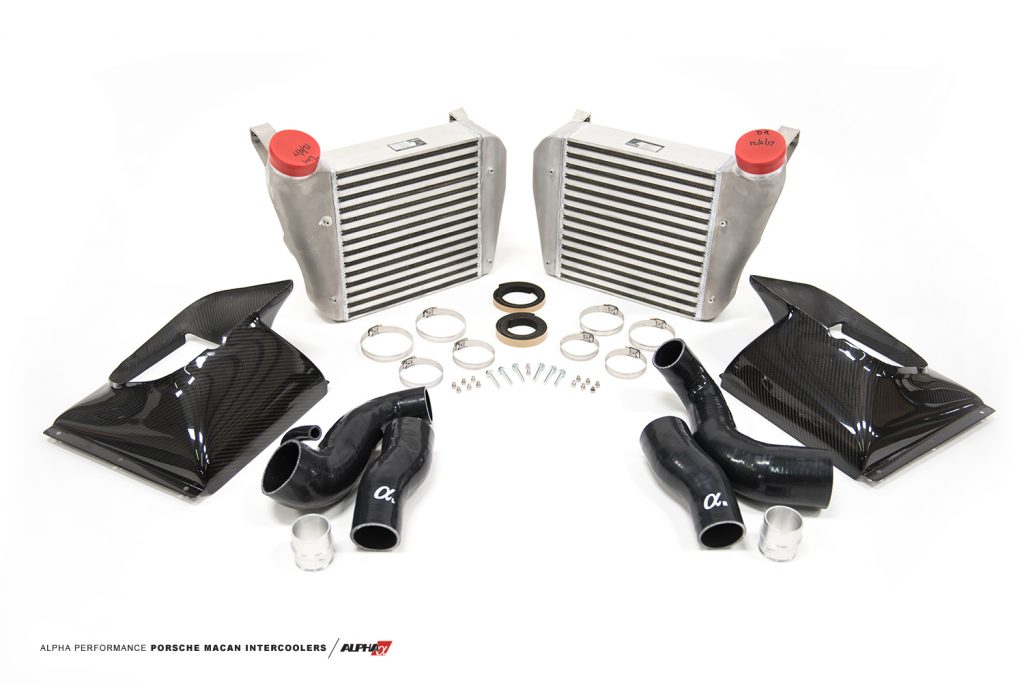 Computer aided design yields maximum results

Our engineering team designed the Alpha Porsche Macan Intercooler end tanks with extremely smooth features and the perfect geometry for the best flow resulting in maximum horsepower. Designed using Solidworks 3D CAD software, these end tanks have improved flow over boxy sheet metal end tanks found on other intercoolers. We then took it one step further. AMS Engineers designed the organically shaped carbon fiber ducting to make use of every millimeter of available space for the ultimate power producing charge of cool air.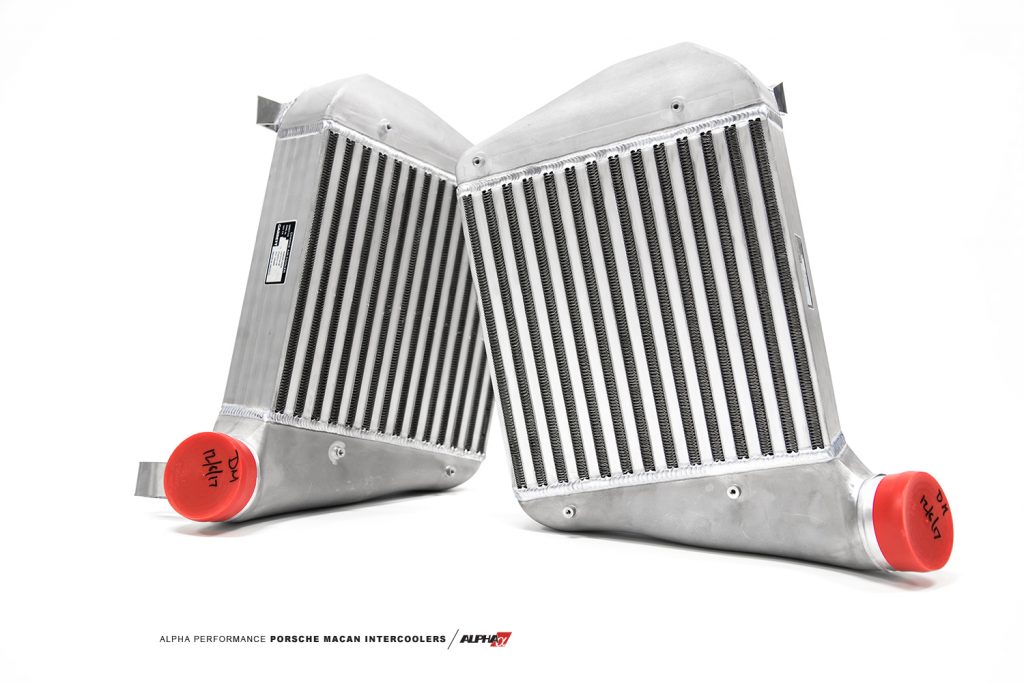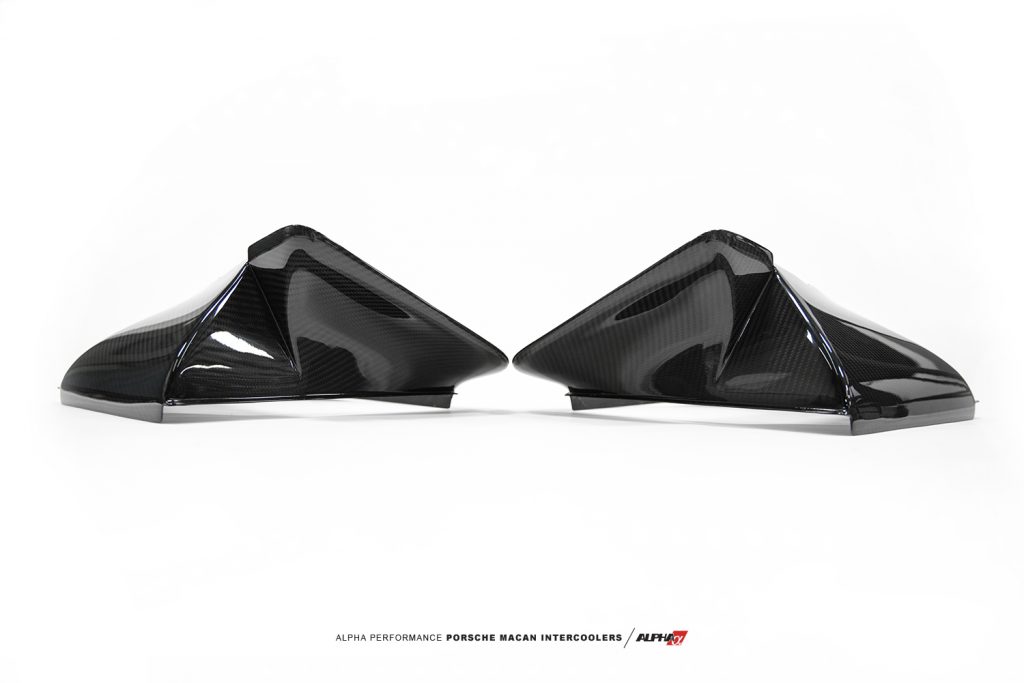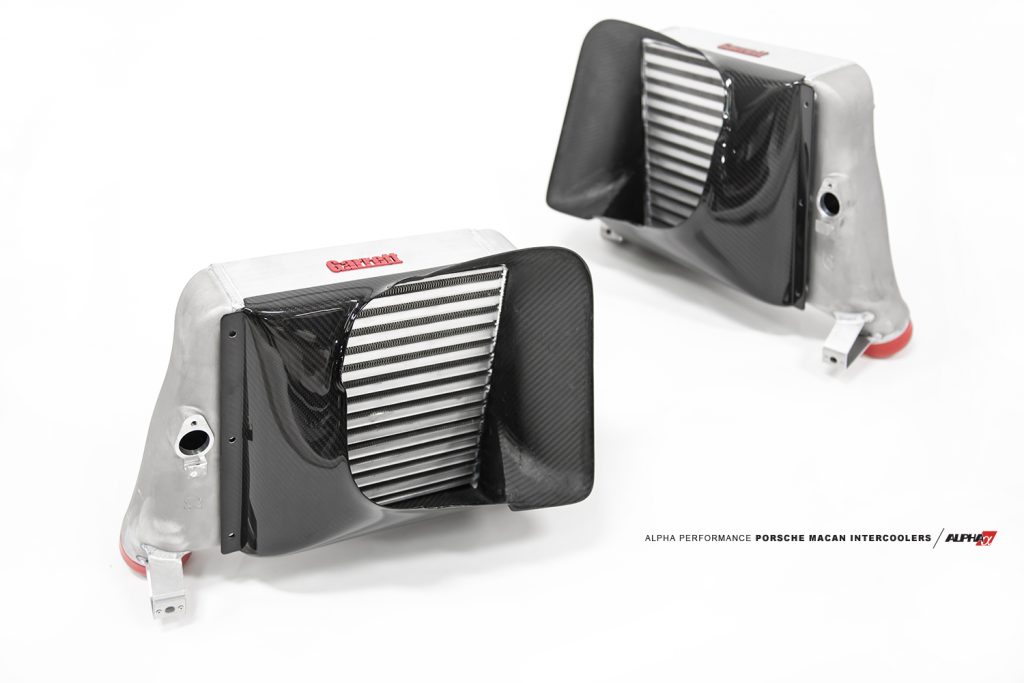 Cooler Intake Charge Boosts Power And Response
Channeling cool air to the intercoolers is vital for optimum performance of any intercooler. Some manufacturers choose to remove the factory intercooler inlets in order to cut costs. This greatly reduces the effectiveness of ANY intercooler whether it's larger or not. Others require that you cut up and tape the factory shrouding to the intercooler core in an attempt to seal the shroud to the intercooler core. While this is better than removing the shroud, it is still not the most effective way to boost performance. Alpha's Engineers came up with the ultimate solution.
The Alpha Performance Porsche Macan Intercooler System features rigid, OEM-quality, carbon fiber ducts designed to mate seamlessly to the intercoolers feeding them cooler ambient air more efficiently than the alternatives. Each organic shaped carbon fiber duct is not only highly functional and designed with performance in mind, they are aesthetically striking as well.
Maximum Airflow For Maximum Horsepower And Torque
To further improve airflow, our engineering team went a step further by computer designing precisely molded, custom silicone couplers.  These provide perfect fitment and optimized geometry for improved airflow volume and velocity providing horsepower gains and quicker boost response helping you stay ahead of your competition! Perhaps the best feature about this intercooler system is that it maintains cooling efficiency as more power producing upgrades are added to your Porsche Macan! It improves the effectiveness of your other upgrades giving you maximum hp output potential!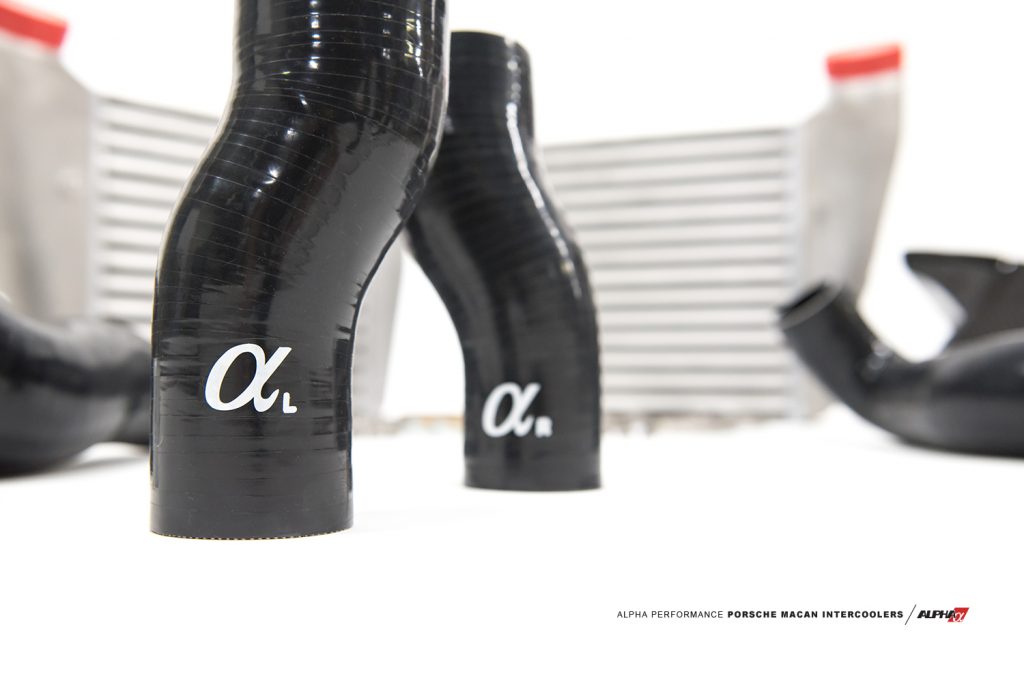 Exclusive Benefits
---
Tough Bar and Plate Core Construction
2 – 43% Thicker, High Quality Garrett Intercooler Cores
Organic shaped endtanks that allow for smooth transition delivery of charged air flow
Larger core reduces restriction through intercooler allows for faster spool up of turbo earlier in
the power band.
Larger core reduces charge temps providing cool dense air to the engine.
Custom silicone hoses and carbon ducts that provide OEM type fitment, no cutting, drilling,
fabricating needed.
Includes
---
85.5mm thick Alpha Intercoolers w/ cast end tanks
Carbon Fiber Intercooler Shrouds
5-ply Silicone Couplers
High Quality Stainless Steel Hose Clamps
All Necessary Fastening Hardware and Gaskets
Billet Turbo Compressor Outlet Adapter
Applications
---
3.0L & 3.6L Twin Turbo Porsche Macan
Tracking will be sent once it leaves our warehouse.

For Canadian shipments, if the item is at a US address, the item needs to be brought into our Winnipeg warranty prior to shipping out to the destination.
Tracking information will be received once it leaves Winnipeg.
Please note, average turn around time for this is roughly 2 weeks, if the product is in stock.
Absolutely NO refunds/exchanges on special order items. If return of a non special order item is requested, customer must pay shipping and it must be requested within 14 days of purchase. 

Any orders not picked up by the customer within 15 days after notification of arrival becomes property of OSS Motorsport Ltd. no credit or refund will be given.

Customers that remove product(s) from OSS Motorsport will have been deemed to agree with all of the above terms and conditions. All items sold are for Off Road Use Only.
UNWANTED ITEMS
Unwanted items are subject to a 20% restocking fee, in addition to the return shipping to our warehouse(if applicable)
Electronics
All Electronics are final sale!
Please have your mail box or junk mail box checked for status updates.
Shipments, returns & refund
During the payment process, we provide delivery options with different delivery companies with which we have no contractual relationship. We offer commission free this added service so the client can receive its order without having to round trip to our warehouse. If there is any problem with the delivery, it is the consignee responsibility to contact the delivery company he/she dealt with directly. The carrier provide a limited insurance of 100$. If you need more, please contact us prior to purchase as we will get you the quotation for extra insurance from the carrier you will select.
NO return accepted. Exchange upon approval and proof of factory default.
Partial or full refund requests are subject to 5% administrative fees. Refund is immediately issued upon cancellation and a confirmation email is sent. However, depending on the payment method used, it may take one (1) to ten (10) days for the refund to appear in client account.
Special orders are non-refundable.
United States orders may be subject to Custom fees and tax as we ship from Canada. 
Disclaimers:
Some products may be used for off-road only. Customer is responsible to check with his/her local/state laws and ordinances.
We are not responsible if the client ordered the wrong item, which does not work on its vehicle.
All parts required professional installation, there is no return or exchange if the client does not know how to install it him/herself.
OSS Motorsport is not responsible for defective or damage caused by unprofessional installation or misuse of the product.
Privacy Policy
We are committed to the privacy of the client's information. OSS Motorsport does not, and will not, distribute, disclose or sell any of the client's personal information to third parties, other than as required by law or as necessary to process a payment. During the process of providing payment information, client may be asked to provide his/her name, address, e-mail, phone number, and where payment is concerned, credit card number, billing address, security code and expiration date.  When users access our site, we may automatically collects information, including IP addresses and information regarding the client use of the site through cookies or automatic registration and maintenance of the client contacts to us and preferences.
Questions about the Terms of Service should be sent to us at info@oss-motorsport.com.