ALPHA Performance INFINITI Q50 Q60 VR30 Red Alpha Full Downpipes – Street
DESCRIPTION
Exclusive Benefits
---
20+ Horsepower Gains over Our Red Alpha Lower Downpipes!
Significantly Lower Back Pressures Means the Potential for More Power
Exhaust Gas Can Much More Easily Flow Across the Turbine Wheel
Full 3″ Stainless Steel Construction Over the Entire Length of the Downpipe
49 State High Quality GESI Catalytic Converters rated to over 800 horsepower
Turbine Flange Offers a Smooth Transition from the Turbine Outlet into the 3″ Tube
Complete Bolt on Means No Cutting
All Necessary Hardware Included
O2 Sensor Tubes Extend to Meet OEM Location. No Jumpers Needed
2.5″ to 3.0″ Adapter Allows You to Run Either Stock or Aftermarket Catback Systems
Mandrel Bent Tubing for the Best Flow
Stainless Steel Brackets and Flanges
Designed For More Exhaust Flow
Includes all Gaskets Rated to Over 800 Degrees Celsius
Throaty Exhaust Note Under Wide Open Throttle
No Check Engine Light
Stock Like Fitment With No Chassis Clearance Issues
Bolts up to The Factory Locations
Precision Construction for Unrivaled Fit and Finish
Compatible with All Models of the VR30 Q60 and Q50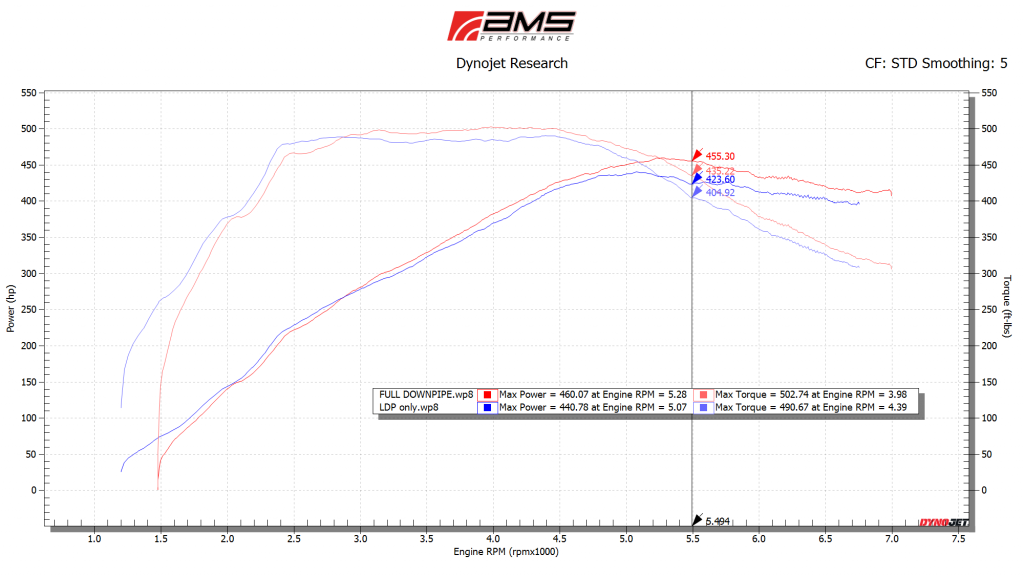 Introducing the Q60 / Q50 Red Alpha 3″ Mandrel Bent Stainless Steel Full Downpipes
---
The Red Alpha 3″ Full mandrel bent downpipes are the best performing and most durable on the market. During testing our shop Q60 with our Red Alpha Full Downpipes, and Red Alpha Tune, our Engine Calibrators saw 20 horsepower gains over our lower downpipes and no CEL's! The power came on earlier and the twin turbos spool-up was significantly improved. The long gradual transitions within the mandrel bent pipe section allows exhaust gasses to maintain velocity without a buildup of back pressure inside of the system. We were able to design a superior product because of our superior engineering.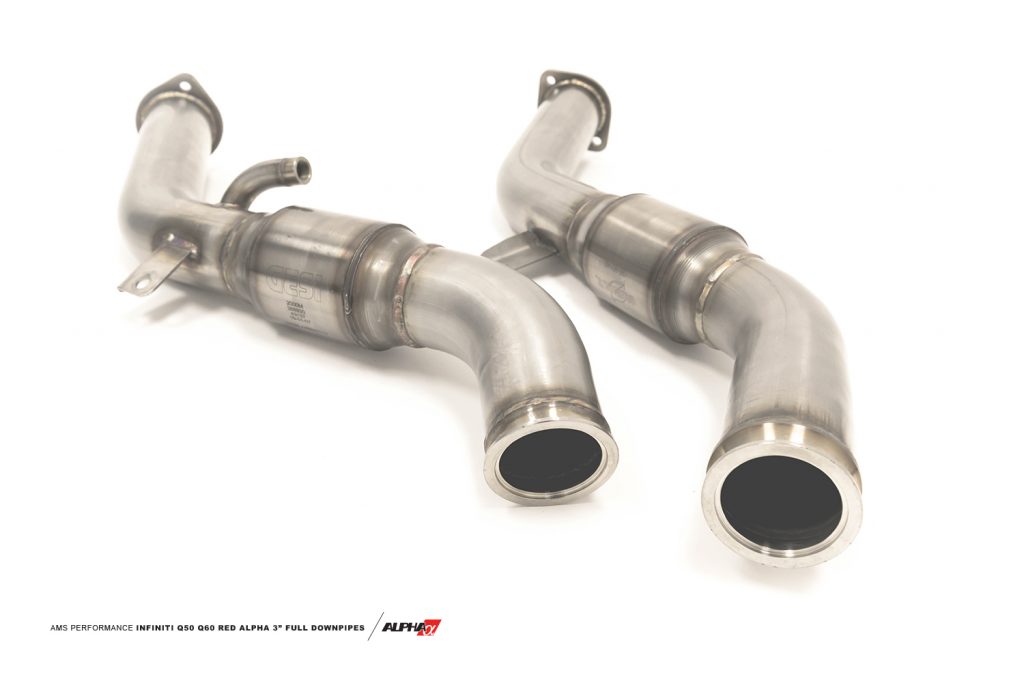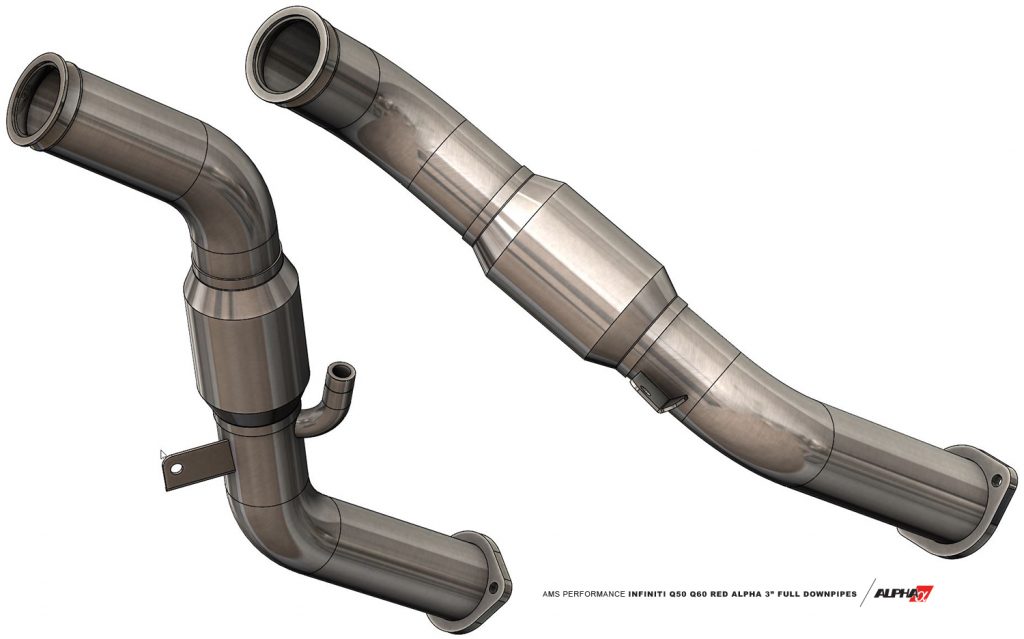 First in Class Durability and Performance From Proper Engineering
---
AMS is first and foremost an engineering company. The AMS Engineering team utilized Solidworks (3D software) to blueprint the inlet and outlets to optimize exhaust flow. The Red Alpha Full Downpipes feature heavy gauge stainless steel to retain as much heat in the down pipe as possible. Our Engineers 3D printed the downpipes to ensure an OEM level of fitment. Our threaded O2 sensor bungs allow the use of factory O2 sensor. Our downpipes perform better and are not prone to cracking like the alternatives offered by some of the competition. AMS' Engineering Team produced a product that doesn't just perform better, they made it sound better too.
An Unmistakable Alpha Exhaust Note
---
The Q60 and Q50 Red Alpha Downpipes offer a more pronounced, throaty exhaust note under wide open throttle yet are subtle at idle and while cruising. It's a perfectly balanced sound.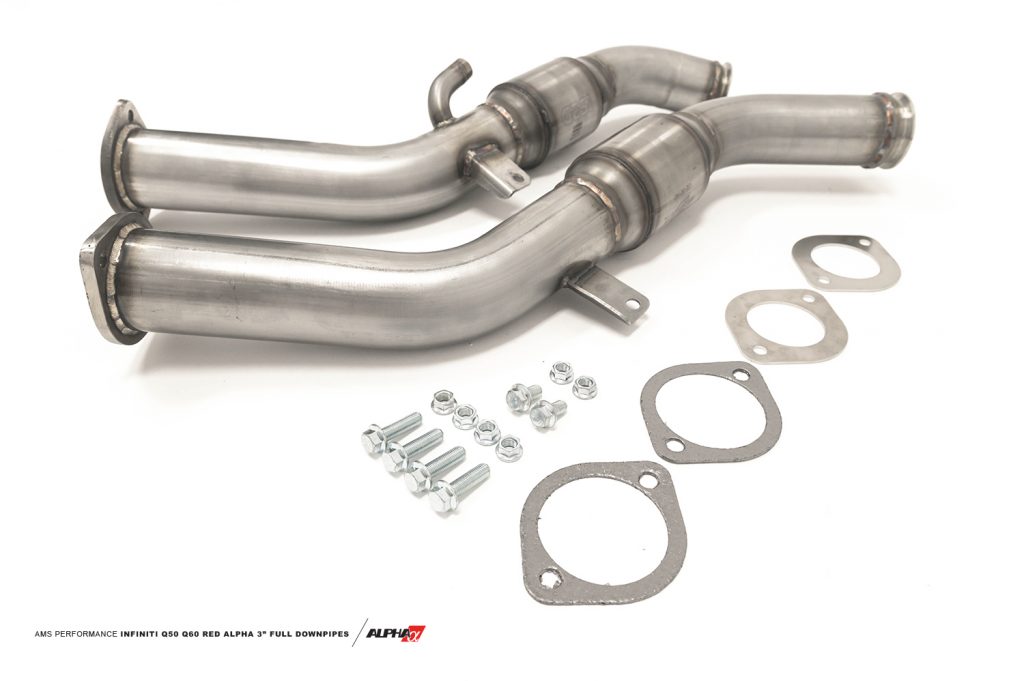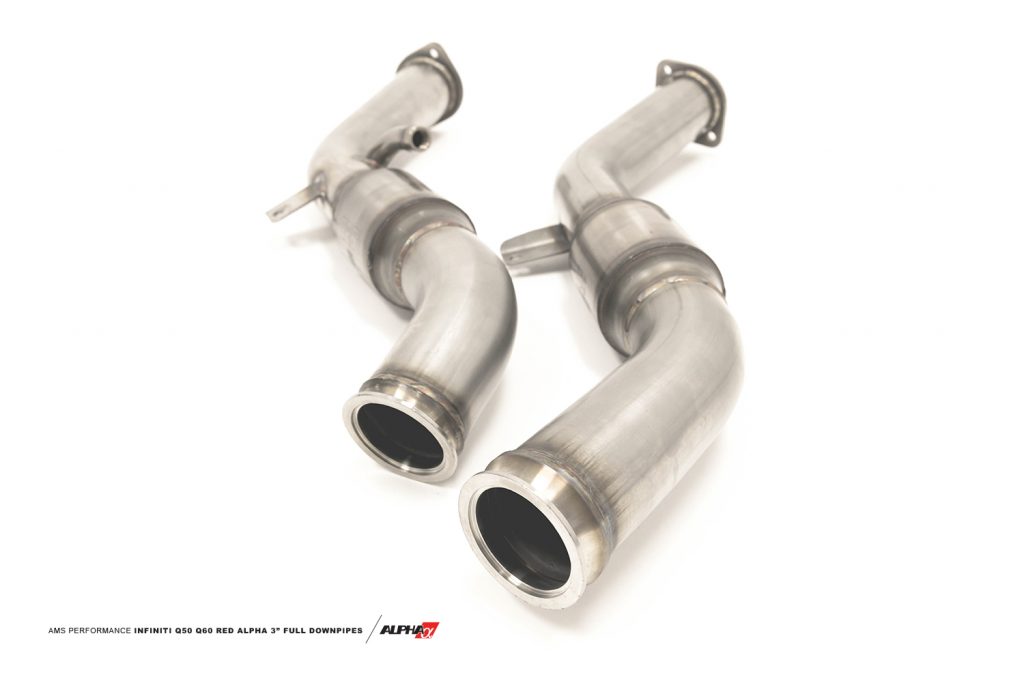 Be the INFINITI guy to beat, order your Red Alpha Full Downpipes today!
Applications
---
2017+ INFINITI Q60 VR30 Twin Turbo

2016+ INFINITI Q50 VR30 Twin Turbo
Notes
---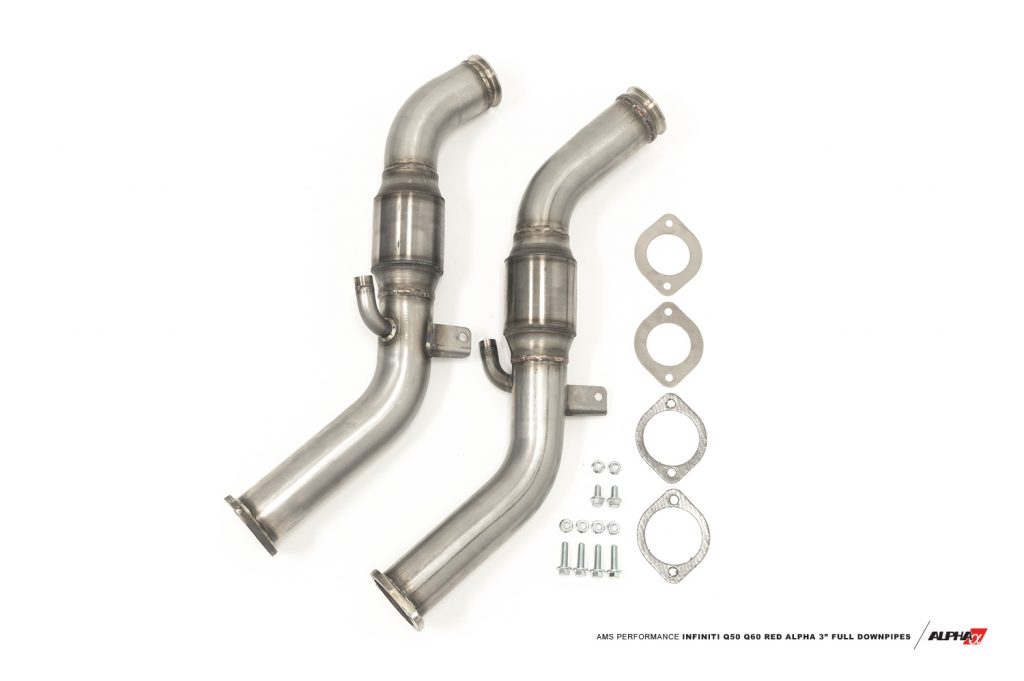 Tracking will be sent once it leaves our warehouse.

For Canadian shipments, if the item is at a US address, the item needs to be brought into our Winnipeg warranty prior to shipping out to the destination.
Tracking information will be received once it leaves Winnipeg.
Please note, average turn around time for this is roughly 2 weeks, if the product is in stock.
Absolutely NO refunds/exchanges on special order items. If return of a non special order item is requested, customer must pay shipping and it must be requested within 14 days of purchase. 

Any orders not picked up by the customer within 15 days after notification of arrival becomes property of OSS Motorsport Ltd. no credit or refund will be given.

Customers that remove product(s) from OSS Motorsport will have been deemed to agree with all of the above terms and conditions. All items sold are for Off Road Use Only.
UNWANTED ITEMS
Unwanted items are subject to a 20% restocking fee, in addition to the return shipping to our warehouse(if applicable)
Electronics
All Electronics are final sale!
Please have your mail box or junk mail box checked for status updates.
Shipments, returns & refund
During the payment process, we provide delivery options with different delivery companies with which we have no contractual relationship. We offer commission free this added service so the client can receive its order without having to round trip to our warehouse. If there is any problem with the delivery, it is the consignee responsibility to contact the delivery company he/she dealt with directly. The carrier provide a limited insurance of 100$. If you need more, please contact us prior to purchase as we will get you the quotation for extra insurance from the carrier you will select.
NO return accepted. Exchange upon approval and proof of factory default.
Partial or full refund requests are subject to 5% administrative fees. Refund is immediately issued upon cancellation and a confirmation email is sent. However, depending on the payment method used, it may take one (1) to ten (10) days for the refund to appear in client account.
Special orders are non-refundable.
United States orders may be subject to Custom fees and tax as we ship from Canada. 
Disclaimers:
Some products may be used for off-road only. Customer is responsible to check with his/her local/state laws and ordinances.
We are not responsible if the client ordered the wrong item, which does not work on its vehicle.
All parts required professional installation, there is no return or exchange if the client does not know how to install it him/herself.
OSS Motorsport is not responsible for defective or damage caused by unprofessional installation or misuse of the product.
Privacy Policy
We are committed to the privacy of the client's information. OSS Motorsport does not, and will not, distribute, disclose or sell any of the client's personal information to third parties, other than as required by law or as necessary to process a payment. During the process of providing payment information, client may be asked to provide his/her name, address, e-mail, phone number, and where payment is concerned, credit card number, billing address, security code and expiration date.  When users access our site, we may automatically collects information, including IP addresses and information regarding the client use of the site through cookies or automatic registration and maintenance of the client contacts to us and preferences.
Questions about the Terms of Service should be sent to us at info@oss-motorsport.com.